A sampling of opinions, political cartoons, history, science, humor, satire and utter nonsense.
Saturday, July 4, 2020
The long view ( PDF file of photos)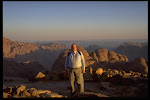 A NASA software engineer for more than 20 years (retired), Egyptology hobbyist and ARCE-NC board of directors member for more than 25 years, former reporter and copy editor for the Kansas City Star and Louisville Courier-Journal. I favor open source development, Linux, network neutrality, medical care as a right and not a privilege, the ACLU, freedom of religion, and freedom of speech, among other things.